Referrals and internet searching will lead you to many companies that sell filters. But how can you make sure that a vendor is the right partner for you?
The right filtration partner must meet your requirements and expectations for product, price, delivery and support. Finding the best fit vendor requires research. If you are considering Critical Process Filtration for the first time, we hope to simplify your inquiring with this guide.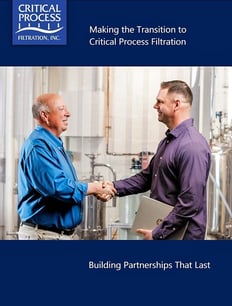 Making the Transition to Critical Process Filtration will help you decide if pursuing a partnership with Critical Process is in your best interest. It's not a product brochure, but details "how" we work with clients from the initial inquiry through installation and ongoing support. Topics include:
Process Evaluation
Validation Services
Purchasing & Delivery
CPF Business Overview
Get your copy today!