Validation
FNM filters are validated using test procedures that comply with ASTM F 838-15(ae1) protocols for the determination of bacterial retention in filters used for liquid filtration. The filters are challenged with the organisms listed below.
0.10μm: Brevundimonas diminuta
0.22μm: Brevundimonas diminuta
0.45μm: Serratia marcescens
0.65μm: Saccharomyces cerevisiae
Quality Assurance
FNM filters are 100% integrity tested. CPF filters are developed and manufactured under an ISO 9001:2015 certified Quality Management System and designed to be used in cGMP-compliant processes.
FNM Cartridges
Available from 5-40 inches in length with several end connections and O-ring options.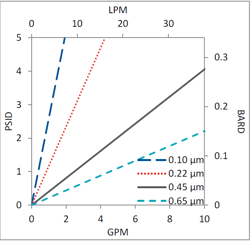 FNM Capsules
These filters are FNM cartridges encapsulated in a polypropylene shell to minimize exposure to process fluids. A popular choice for single-use applications and can be disposed of easily. Sizes range from 2-30 inches in length.